Agency News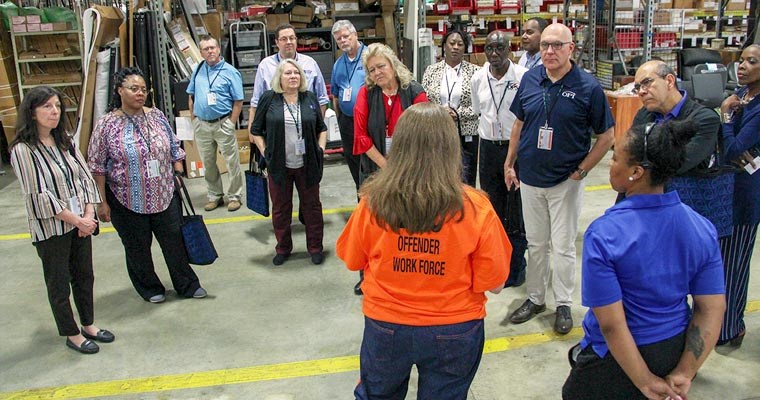 VCE Shines as the Host of the 2019 SECIA Conference
September 26, 2019
Virginia Correctional Enterprises (VCE) hosted the 2019 Southeastern Region National Correctional Industries Association (SECIA) Training Conference in mid-September, putting VCE on display. Representatives from the southeastern states, the federal government and a variety of vendors converged on the Four Points by Sheraton to learn about the latest in correctional industries. Before the event began, conferees took a tour of the recently remodeled VCE headquarters in North Chesterfield to see the latest offerings in a wide range of products including clothing, footwear, silk screening, furniture, printing, and security vehicle enhancement systems.
Virginia Department of Corrections Director Harold Clarke offered welcoming remarks and challenged attendees. "Are you doing all you can do to make a difference?" he asked.
Keynote speaker Brian Hamilton, founder of "Inmates to Entrepreneurs," discussed the importance of helping returning citizens lift themselves out of difficult circumstances.
"We were honored to host this event and enjoyed the opportunity to dialogue with our peers from other correctional industries from a dozen states throughout the southeastern U.S. Our guests left enriched and well-informed about the many good things VCE is doing with the support of VADOC," said VCE CEO Malcolm Taylor. "Industry directors and managers were especially impressed by the co-location of the VCE Showroom, distribution center, digital print, and administrative offices," CEO Taylor added.